Thulasi and Prasanth's Wedding Story
One of the best wedding  in kerala wedding photography, is that Thulasi and Prasanth's wedding. Weddings are so special, joy, full of love, tears, laughter and unexpected moments.  All things are  put together a collection of some favorite shots or candid photos captured beautifully by taking pictures and crew in Kerala style photography.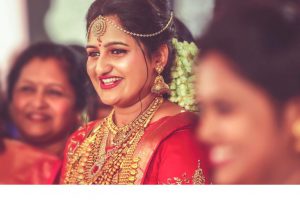 Prasanth is a business man and Thulasi is a famous singer in malayalam film industry she sung 20 songs in 14 films. Wedding will be held at Thrissur. It is a three days function,
1st day haldi at their home. It is a theme based function – all family members have same color dressing, dancing, singing  etc. We captured all candid movement of bride and groom.
2nd day mehandi function. Held at lulu convention center Thrissur. 3rd day function at Thiruvambadi convention center, Thrissur. The Most import thing is that this convention center highlights traditional wedding in Kerala.
Wedding function will be pleasant with celebrities from film industry and they are wishing to  both bride and groom.
All functions are given below the link
Bride and groom section is perfect. Their dressing, makeup, walking pose etc. And also the arrangements are looking awesome like flowers, lights. In all the photos we can see that the photographer keeps natural intimacy. Bride and groom look in traditional Hindu wedding style. The bride looking gorgeous, her makeup, hairstyle jewelry are  looking wonderful. The photographer takes all the candid movements.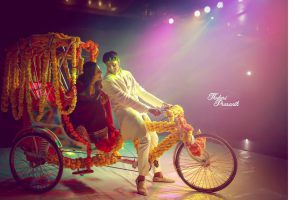 Bride and groom are sitting on cycle rickshaw. Rickshaw is colorfully decorated with beautiful flowers. Their pose, light settings, close ups are naturally copied by the photographer. The photographer choose fog.,lights,  pose & smile of bride & groom…. , some of these ideas work wonder!! This picture make awesome!!