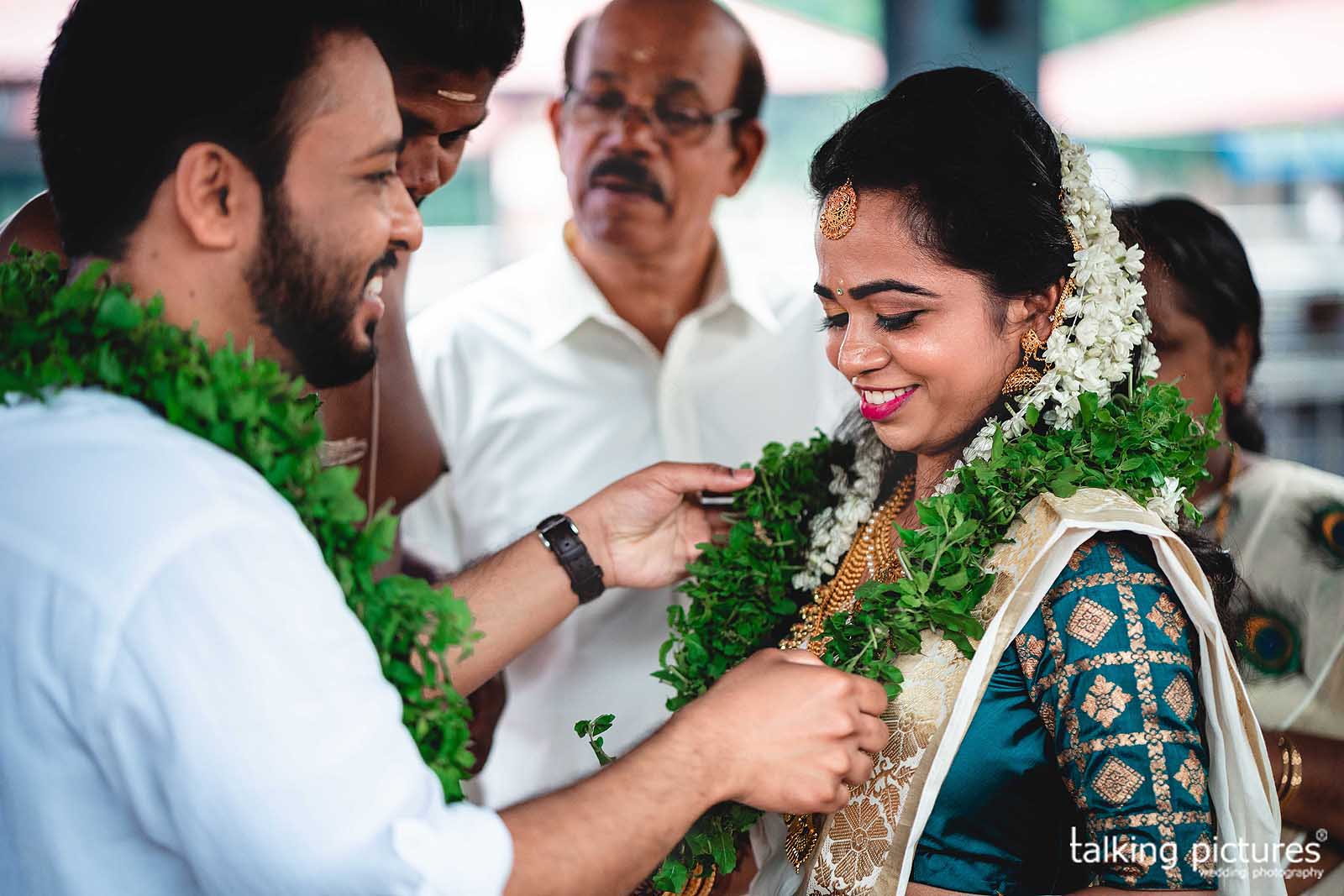 A classical kerala hindu wedding
We had to wake up early to reach Guruvayoor, where the Classical Kerala Hindu wedding function of the cute couples Rahul and Anisha was planned to be. Guruvayoor Sri Krishna Temple is a Hindu temple dedicated to the Hindu god Guruvayurappan (a four-armed affiliation of the Hindus god Vishnu), located in the town of Guruvayur in Kerala, India. It is one of the most important places of worship for Hindus of Kerala and is often referred to as Bhuloka Vaikunta,[2] which translates to as "Holy Abode of Vishnu on Earth".
It was a pleasant day and was very happy to be working with the couple. Both the families were also supportive, there was no hurry burry during the function for the wedding in Guruvayoor Anisha was wearing a traditional set saree. We got 20 minutes for the shoot in the Kerala traditional saree, we planned to shoot near the entrance towards the west of the temple. There were many pigeons usually called temple pigeons. We bought some Avil (Rice Flex) from the nearby store in order to make the pigeon come to the ground and it worked so well. For the function, Anisha was wearing red saree in which she was looking so beautiful and cute. We had her shoot in the red saree and well grooming. Both were cute, beautiful and happy. Anisha's sister and her husband such a desirable couple one her sister was with always with her without missing any single drop of happiness from her face and being base support of Anisha. And her brother in law who was capturing the beautiful moments of Rahul Anisha' s wedding through his angle. The function was so happily done. The function winded up by 3.30 pm. And later the reception was on one day after the wedding.
The reception was at Bangalore. It has a population of over ten million, making it a megacity and the third-most populous city and fifth-most populous urban agglomeration in India.
The most popular one in the hotels the Marriott Banglore was the venue of the reception. Rahul was wearing a Bandgala and Anisha was wearing a red frock and top. We had more than enough time to shoot with the couple. We did most of the shoot inside Marriott, there were even more areas to cover than we have seen. we got some beautiful photos of them besides the window in their room. It included the beautifully lit sky the buildings and the beautiful couple completed a frame. Both were royal and their families. Most of the guests saying 80%were having their native Banglore. It was a great experience for us taking A Classical Kerala Hindu Wedding photography of Rahul and Anisha, one of the cutest couples we have ever met. We left Bangalore wishing them a prosperous and a good married